This new feature was all your idea, Members. The ability to queue up classes so you can easily transition from one to the next was consistently one of the top requests made through our social and support channels. And now, it's a reality.
Stacked Classes allows you to custom-build your perfect total-body workout ahead of time on your hardware, iOS/Android devices, or on the web. Instead of finishing your workout and having to take the time to search for another, you'll now have the ability to keep your momentum and flow right into the next class without a hitch. Plus, you can now take a series of Stacked Classes on your Bike or Tread, and finish your stack on the Guide—or vice versa.
Building a Stack
To build a stack on your Guide, Bike, Tread, iOS device, Android device, or on the web, tap the stack icon to add a class to your stack. Add up to 10 classes to your stack to plan your next workout.
To quickly add a class to your stack on your Guide, Bike, or Tread, simply long-press a class thumbnail.
Preview your stacked class and remove any classes you don't want as a part of your stack. When you're all set, press start and begin your seamless workout. Or, access your stack on the App, Apple TV, Android TV, or Fire TV to work out.
Where Can I Access My Stacked Classes?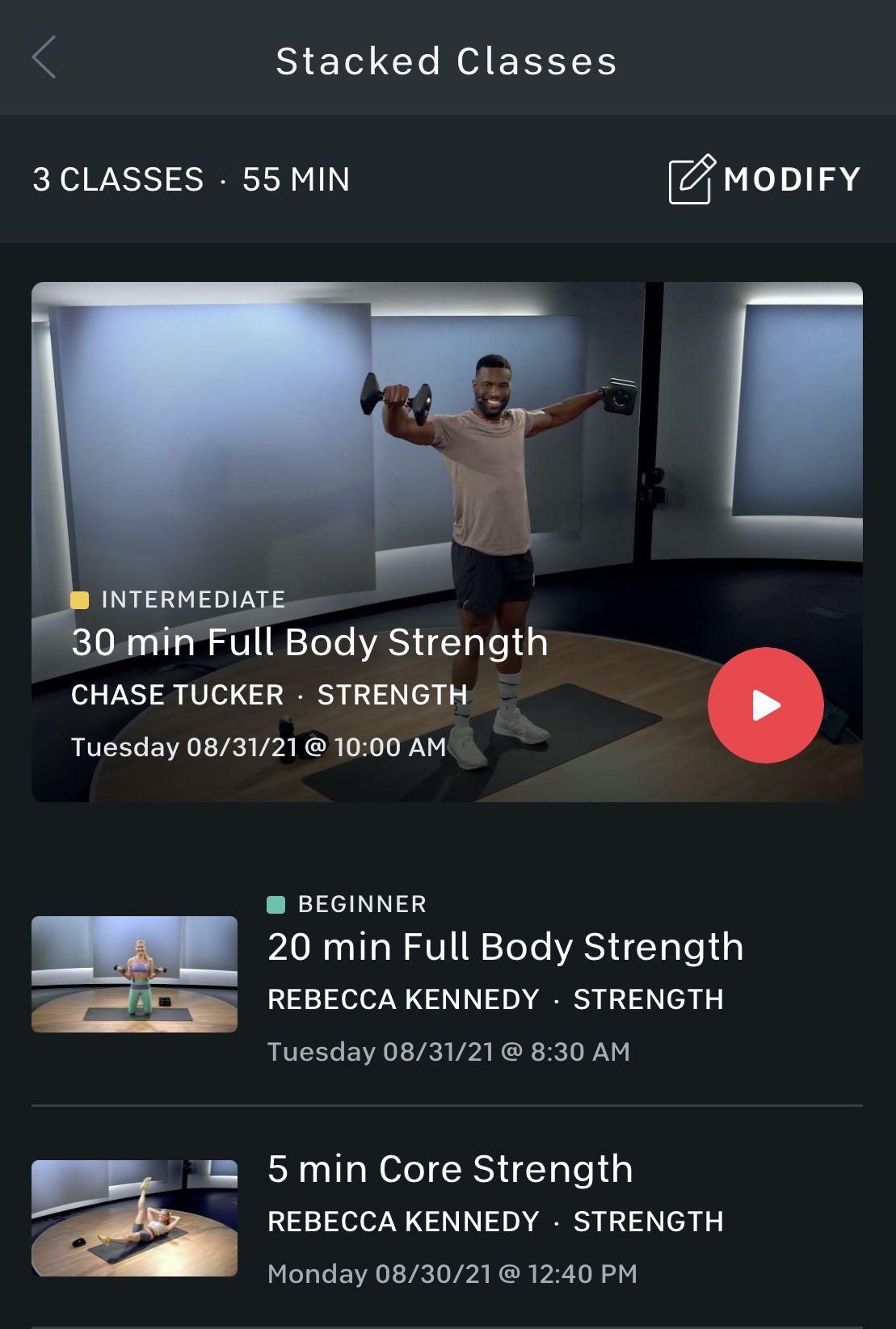 You can build your stack on Guide, Bike, Tread, web, iOS mobile/tablet, or Android mobile/tablet, and you can access your stack on Apple TV, Android TV, and Fire TV.
Make sure you update to the latest versions of your apps before getting started.
"MY GO-TO STACK IS A PRE-RIDE WARM UP, CYCLING CLASS, A QUICK CORE STRENGTH, AND THEN, I END WITH A FULL-BODY STRETCH."
—Olivia Amato
Get ready to enhance your total body fitness by stacking strength classes onto your cardio routine and more.