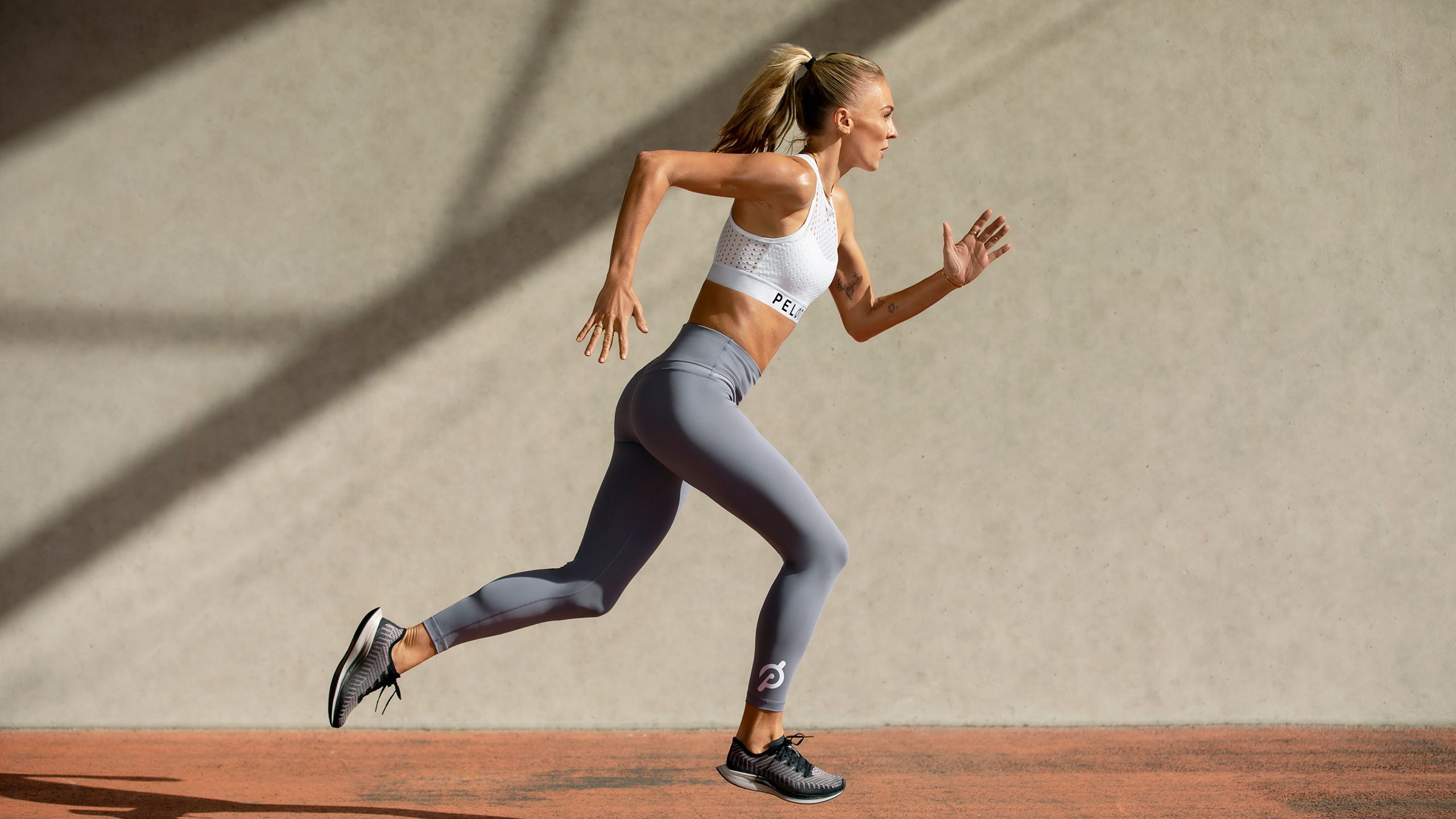 How to Find Your Running Race Pace
Smart training will help you cross that finish line faster.
By Colleen Travers•Updated July 14, 2021
When you go on a run outside, you might aim to move at a steady, natural pace. But switching it up and trying different speeds on your runs can play an important role in your training. If you're going longer distances and working on your endurance, for example, you're likely to run slower, while HIIT and interval runs may have you moving faster for a shorter amount of time.
If you're training for a race, you might want a pace that's right in the middle of these two, known as your race pace: a speed you can sustain that will help you reach your goal time. Here, Peloton instructor Becs Gentry explains how to hone in on your race pace.
A Simple Equation: Race Pace = PR
If you think every run you go on is your race pace, think again. In fact, you probably haven't run at your race pace yet. "Your race pace is what I would call your 'go getter' pace," Becs says. "When you race, the goal is to achieve a PR, so the speed you run at is going to be faster than what you can achieve in your training."
It's similar to training for a marathon, when the highest mileage runners typically hit in a training plan is 20 miles, very rarely running the full 26.2 before race day. With the right kind of runs and persistence, you can get pretty close to your race pace, which will help predict how you will perform on race day.
Find Your Baseline Pace First
The best way to figure out your race pace? Race! Take a look at the most recent race you've run to get a sense of what kind of speed you've built up. "If you haven't run a race, do your own time trial for a mile or a 5K," Becs suggests. "From there you'll be able to more closely determine your pace targets."
Keep in mind that your pace will vary based on the distance you are running. That one mile sprint won't be the same speed as your mile splits during a 5K, so make sure you time yourself for the length of the race you plan to run.
How to Improve Your Race Pace
Once you've found what your race pace is, the next step is to maintain or improve it. This is where tempo runs in your training plan can help. "A tempo run is more or less your race pace for a shorter time or distance than the race is," Becs says. "You don't want to be hitting race pace for extended periods of time in training because you want to save that energy for the actual race day. This training is planned around building you up to hit race pace."
Keep Your Pace Goals Realistic
Remember that speed takes time, so you may need to set mini goals along the way before you reach your fastest race pace. "In order to work toward hitting a new PR at a race, you need to follow a structured training plan and trust that process," Becs says. "There will be tough days and easy days, but working hard and seeing the adaptations over time will encourage you to keep going."
Above everything else, remember to listen to your body during a race. If something hurts or doesn't feel right, take it down a few notches to ensure you'll be able to chase that race pace for many more races in the future.
Ready to test out your race pace? Try an outdoor run on the Peloton App!