Peloton--are you ready to reach for more? Starting on 12/26, Peloton Yoga instructors Aditi Shah, Anna Greenberg, and Kristin McGee will be taking you even deeper into your strength. Learn more about their impressive backgrounds, unique teaching styles and why they can't wait to bring it all to the mat with you.
Aditi Shah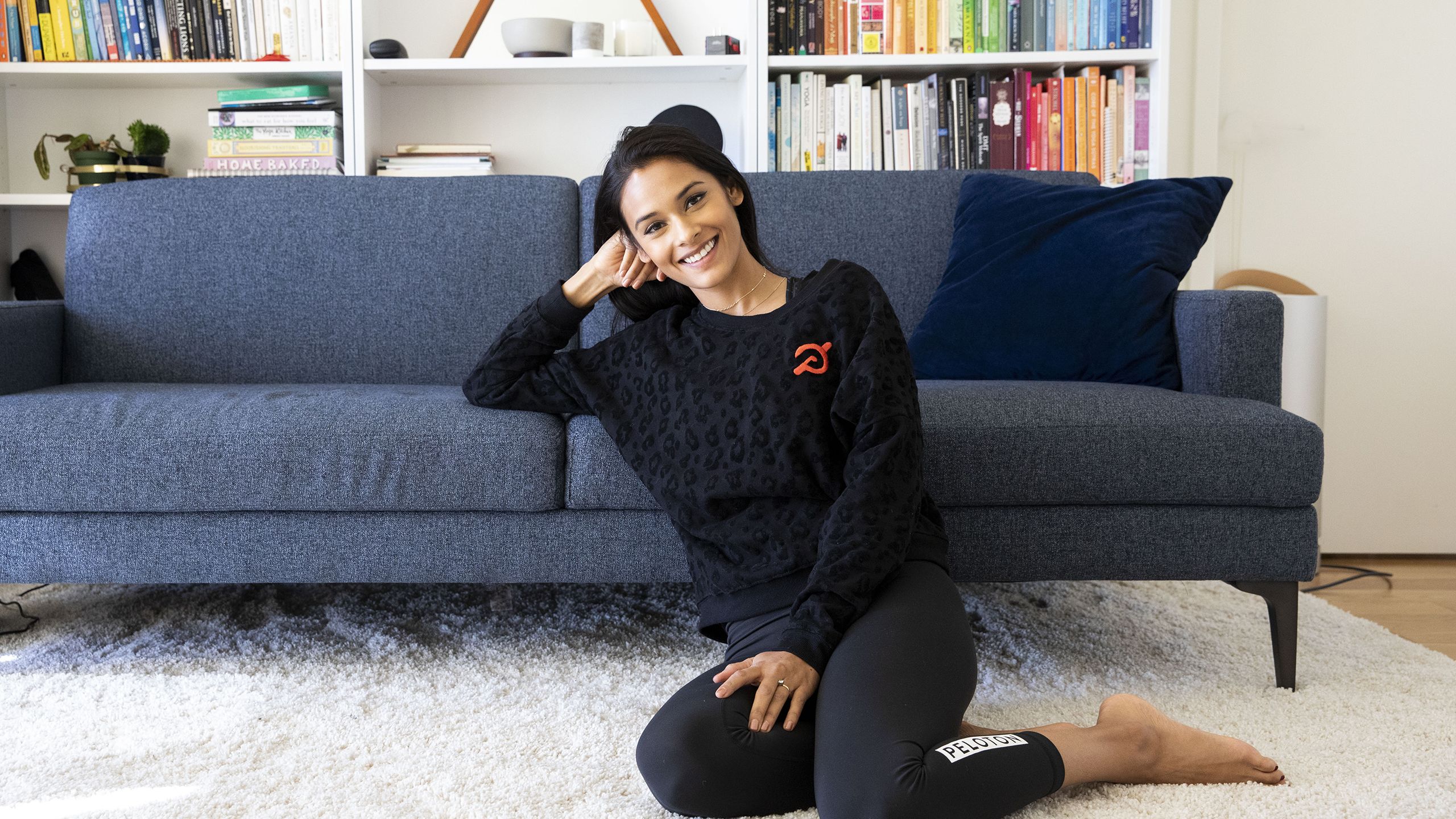 "People show up to their practice for different reasons," says Peloton Yoga instructor Aditi Shah--and at first, Aditi admits she was hesitant to show up at all. "I originally wasn't into the slowness of yoga," she notes. Growing up in suburban New Jersey, Aditi's parents practiced regularly, inviting instructors to teach class right in their home. Once in college, Aditi played soccer and studied finance but quickly realized it wasn't for her, leading her to book a one-way trip to stay with her parents after they retired to India. "I did a deep dive into yoga while I was there and I really became aware of the cultural significance of living and breathing the practice," she explains. "I was hesitant to teach when I finally returned to the U.S., since I was afraid it would ruin it for me, but I've learned that teaching is also experiencing yoga, so we're all students at the same time."
Aditi believes that yoga should be purposeful. "Whether it's physical or emotionally focused, really understand why you showed up to your mat that day," she says, "and know that I will always create a safe space for you to flow in." She's excited to guide the Peloton community through a transformative experience, helping them to find a deeper sense of self. "It's really amazing to watch how after one week you're able to to do something that you couldn't imagine doing before," she says. "This translates to other areas of life as well--I want people to see past the pose and understand how much yoga will benefit them outside of class too." Aditi uses music to create a mood but not distract you from the work you're doing--think dreamy, slower songs that help you focus in on what you're accomplishing. The most important part of her practice is knowing that yoga is a lifelong journey and she will be there with you every step of the way. "I love believing in people because that encourages them to believe in themselves."
Anna Greenberg
Anna describes her teaching style as technical mixed with moments where she empowers students to be expressive and spiritual. "I want to give that space to my students to allow their practice to be really fun," notes Anna, "but I will always give you an anatomical focus during class as well." Anna has crafted a unique teaching style that uses movement and music to help her Members connect to the same healing properties of yoga that drew Anna to the practice in the first place.
Anna originally found yoga in high school, practicing with her mom. As she built a deeper connection with her mind and body, she began accomplishing things she never knew possible. "I found that it gave me greater agency over my life," says Anna. "I not only found physical strength, but amazing mental strength and perspective." Anna continued to practice regularly, eventually received her certification and has been sharing her practice through workshops and teaching ever since. Music is also something that Anna brings to add to the practice vibe and always makes sure the playlist she picks is conducive to the mood and energy of the class. Most importantly, she wants her students to work through those moments of fear and doubt. "Always look for success, but be willing to fall and fail." Anna's goal is to let others know that yoga is really for everyone--an inclusive space where you can explore what you're made of.
Kristin McGee
Peloton Yoga instructor Kristin McGee hails from a small town in Idaho, but inspired by her parents' careers as performers, she developed a love for dance and choreography early on. As a young actress living in New York City, Kristin entered the fitness world when she began teaching aerobics over 20 years ago. "When I eventually found yoga it was something I was interested in exploring further," Kristin says. She found how much yoga served her in various areas of her life, and knew she wanted to share its impact with others, going on to train with Cyndi Lee and many other legendary figures in the yoga world.
As a busy mom of three young boys, Kristin knows how hard it can be to fit in a workout, so whatever time you have to dedicate to yoga, she's ready to flow with you. "Even just 10 minutes of yoga every day will make you feel better," she says, "and I guarantee that it will help create that inner smile every time." Kristin's teaching style invites everyone, of all fitness levels, to meet her on the mat. "I love using real-life analogies and anecdotes to help my students understand better," says Kristin. "Yoga isn't a time to be intimidated--just show up and never give up." As far as her favorite tracks to flow to? Kristin gets inspired by contemporary songs mixed with some oldies. "Music really sets the tone and helps establish your attitude--it adds another fun layer to class," says Kristin. The energy of Peloton's community is what Kristin says excites her the most. "I can't wait to see our Members transform while using yoga to complement the other amazing work they're doing on the Tread and the Bike," says Kristin.
Start flowing with this team on all Peloton platforms including Peloton Digital on 12/26--click here to download.