We have a lot of memorable days here at Peloton. Whether it's a major event, like All For One or Turkey Burn, or an individual milestone, we love those times when our community comes together and reminds each other why we all show up, day after day. But some of the classes that truly stick with us started out as just another day—one that turned into something special thanks to a killer playlist, a hilarious story, or an unexpectedly deep moment of connection between instructor, community, and crew. Below, our instructor team shares their favorite classes from this year, and make sure to check out all the classes in the Instructor Top Picks 2019 Collection on your Bike, Tread or App so you can relive the highlights of 2019.
Cycling
Alex Toussaint's 60 Minute Club Bangers Ride, 8/31
This class is the epitome of the Club Bangers experience, where you can let go and just feel that good energy and positive vibe. Alex says, "I wanted the Members to have something where they could detach from the stressful week. Whether you like 80's pop, 90's R&B, 00's Hip hop, there is something for everyone with my Club bangers ride. We ride together, we shine together!"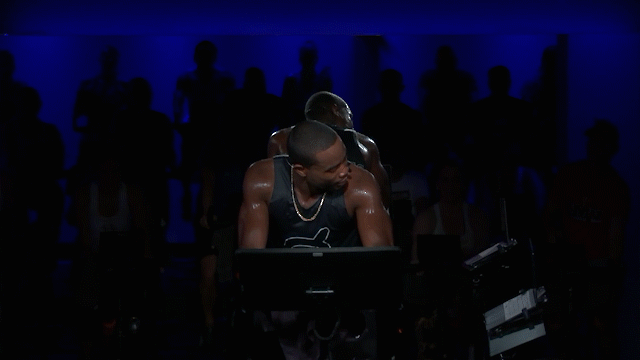 Ally Love's 45 Minute Feel Good Ride, 3/31
"Feel Good rides are one of my favorite rides to teach!" says Ally. "In every Feel Good ride, we conquer at least 6 minutes of hard work together because we ALL go through something to ultimately feel good--and then the rest of the ride is a party because we choose to really LIVE, & not just be alive" By the end of these 45 minutes, you'll be emotionally and energetically filled up and ready to conquer whatever is in front of you!
Christine D'Ercole's 30 Minute P!nk Ride, 11/1
From the moment this ride ended, it was clear that what we'd just experienced was something truly special, and it quickly became an all-time favorite for many Members. "It was such a celebration of being true to ourselves, making ourselves proud and living our most authentic lives out loud!" says Christine. "I was honored to have been able to facilitate a deeply moving experience in words and music and movement."
Cody Rigsby's 30 Minute Backstreet Boys Ride, 5/17
"My Backstreet Boys ride is more fun than waving homemade signs outside the TRL studio in Times Square in the year 1999," says Cody, who we can absolutely picture doing just that. It was Cody's favorite ride from this year and from what we heard, it was many Members' favorite ride as well!
Denis Morton's 45 Minute Pride Ride, 6/7
This ride was a chance to step back and remember the reasons you want to be better in the first place, during a time in which many members of our community are reflecting and celebrating their fight for a place in the world. "This ride meant a great deal to me and showed that it's bigger than the cycle you're on and the cycle you're in," said Denis.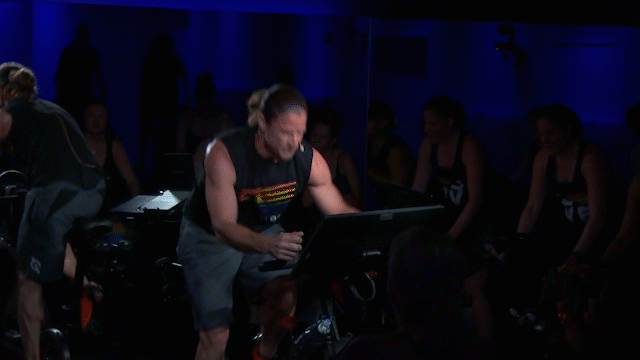 Emma Lovewell's 30 Minute Rock Ride, 8/27
"I've been teaching a weekly 30 min rock ride for a few months now, and this was one of my favorites--a mix of 90s rock and alternative rock, old and new," says Emma. This class has a long interval section in it, and the music and intensity really helps you push through those difficult intervals. A fun and challenging ride, with banging music--ready to rock?!
Hannah Marie Corbin's 60 Minute Rock Ride, 10/6
In these 60 minutes, the class plan, the playlist, the energy in studio and on the leaderboard all came together to create one magical whirlwind of sweat! "I love rockin' it out with my Peloton fam," says Hannah. "Take this ride when you're ready to feel like the rockstar you are!"
Jess King's 45 Minute MusicFest Ride, 7/27
Music drives so much of what we do at Peloton, so it's no surprise to see a ride from a series that was all about the music hit the list. "This ride is about connection, passion, and finding moments in life that feel as good as when that beat drops," says Jess. If you're curious about EDM music, this ride is a guide to Jess's favorite tracks across all EDM subgenres offering a musical education along with a marathon of a workout!
Jenn Sherman's 30 Minute Epic Sing Along Ride, 5/5
It's not always about output and PR's here at Peloton. "My Epic Sing Along rides are the most fun you can have while sweating on the bike!" says Jenn. "This one was super special to me and stands out from the pack of an amazing year of rides."
Matt Wilpers' 30 Minute Halloween Ride, 10/30
Is there a better sport on earth than Matt Wilpers? In back to back performances, Matt took on the persona (and wardrobe) of Cody Rigsby to the absolute delight of everyone involved. "I chose my Halloween Ride to be in the Best of 2019 Collection because it was just so much fun trying to be Cody for one ride," says Matt. "Let's go BOOs!!"
Robin Arzon's 30 Minute Lizzo Ride, 8/2
In a year of epic musical moments, this one stood out from the pack. "Lizzo is the epitome of someone who lives her life unapologetically, and y'all know I subscribe to that ethos," says Robin. "This ride was probably the most fun I've ever had on the bike. It serves as a reminder to wear your crown proudly and celebrate yourself, no matter what anyone else thinks. Take this ride whenever you need an extra boost of confidence. It's always here for you, fam."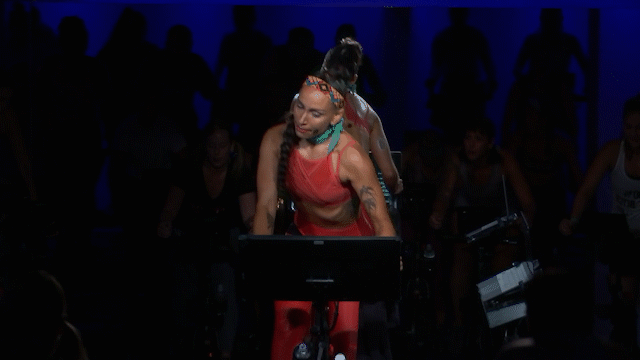 Olivia Amato's 30 Minute HIIT Ride, 9/28
When Olivia first hit the Bike this year, she quickly made a name for herself as the tiny-but-mighty instructor who would cheer you on until you hit your absolute limit. This quick, fitness-focused ride is a perfect example of her style. "It's a mix of fun music and tough intervals that will make the 30 minutes fly by," says Olivia.
Kendall Toole's 30 Minute Latin Celebration Ride, 10/9
This was a special moment as we got to know Kendall this year, in a ride that she describes as a love letter to her hometown, Los Angeles. "A HUGE part of the LA culture is the Latinx community, and while I am not Latina, it's a huge part of my background because of the community's impact on where I grew up and called home for 20 years." Take it and join the celebration!
Tunde Oyeneyin's 30 Minute Live DJ Ride, 11/1
"I can still feel the pulse of this Live DJ Ride," says Tunde. "All of the pieces fit. It was the perfect playlist, the right amount of challenging and the energy so vibrant you could see it in colors." For an instructor so vibrant she practically leaps off the screen...that's saying something special!
Ben Alldis' 30 Minute Intervals Ride, 10/21
We love it when our instructors show their love and lift each other up. "Christine was celebrating her 5th anniversary at Peloton and her gold at the World Championships, and it was so nice to be able to give some thanks to someone who has given so much to Peloton," says Ben, who picked this as his favorite class of the year.
Leanne Hainsby's 30 min Broadway Ride, 10/17
"Because having this much fun on a bike should be illegal!" says Leanne, who raised her hand as a lifelong theater lover to create this special class. "The Member response was amazing and it was so great to combine my passion for musicals with my passion for Peloton."
Hannah Frankson's 45 min Premiere Ride, 11/12
The very first ride is always a special moment, and Hannah is still riding high from getting to meet our Members for the first time this year. "This was such an amazing experience for me," she said, over and over again.
Sam Yo's 45 min Premiere Ride, 11/13
"It was such a special moment to be able to introduce my life and connect with the Members on not just a physical level but also emotional," says Sam, who's gone deep since his first class and is showing no signs of stopping. If you haven't taken all of our new instructors yet, give them a try before the year is through!
Tread
Andy Speer's 30 Minute Intermediate Full Body Strength, 9/5
For those of you ending 2019 with Andy's strength training program, you know how thoughtful and effective his teaching is in every workout. This one is a favorite of his, he says. "It includes a great warm up, unique exercise variations that progress through out the class."
Becs Gentry's 60 Minute HRZ Endurance Run, 6/11
Never thought you'd spend 60 minutes of your life running to classical music--and love it? That's the power of Becs Gentry. "I loved this class because of the unique playlist filled with soaring orchestral and classical music selections!" says Becs. "My music for outdoor runs is usually something like this. I loved the chance to share some favorites."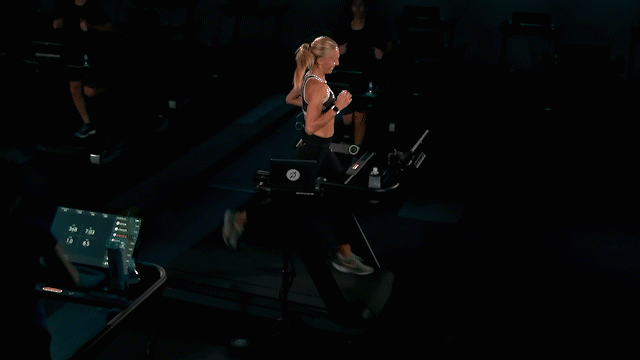 Jess Sims' 60 Minute Bootcamp: Chest & Back, 11/2
"I switched it up here and did 7 different segments - 3 on the floor and 4 on the Tread, including two using free mode!" says Jess. "This class was a challenge for sure, but we all left feeling super accomplished." Was Jess secretly punishing us for enjoying her Halloween scare a few days earlier? If so, she's not telling.
Matty Maggiacomo's 30 Minute Madonna Outdoor Run
"Recording the Madonna Run for Peloton Outdoor was easily one of my proudest content highlights this year," says Matty. "I was honored to be able to celebrate the 50th anniversary of the Stonewall Riots, and I felt like it was the perfect mix of history and celebration, as well as an opportunity to highlight Madonna's meaningful contributions to the LGBT community throughout the course of her career. The word "ICON" comes to mind."
Olivia Amato's 20 Minute Advanced Intervals Run, 8/27
We're always amazed at the incredible runs Olivia can put in and how hard she pushes her intervals, and in her favorite class of 2019 she does just that. "I love the shorter intervals-based classes because they're tough but fun and high energy," says Olivia.
Rebecca Kennedy's 20 Minute HIIT Cardio, 6/7
This is a sweaty good time that packs a serious challenge, even though it uses no equipment. This workout proves that everything you need to push yourself is already within you. "This class has new movements that are doable, but it feels like sprinting without a Tread!" says Rebecca.
Selena Samuela's 20 min Hip Hop Fun Run, 9/13/19
Peloton's Fun Runs mean a run that you can take at your own pace, considering your instructor's suggestions for pushes or incline just that...suggestions. "My 20 min hip hop fun run is quick and to the point, great tunes, uplifting, and you'll finish class feeling like a badass!" says Selena, who loves the chance to offer a class that will let you surprise yourself.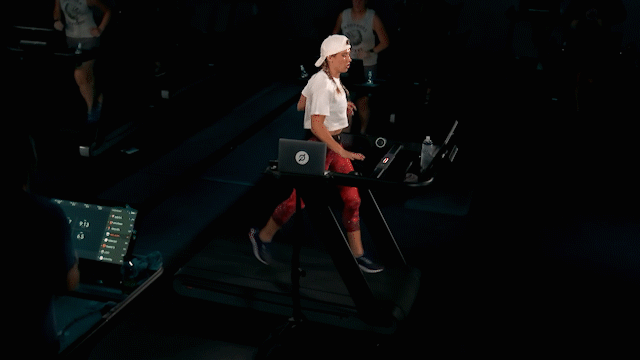 Robin Arzon's 10 Minute Core Strength, 9/23
"Welcome to my fitness ABCs: Always Building Core," says Robin. "The core is a critical part of my training regimen, which is why I chose it as a top pick." Give Robin 10 minutes, and she'll push you like you never imagined--but actually love.
Matt Wilpers' 10 Minute Strength for Runners, 10/16
Matt is all about training smarter, and that means taking care of the whole runner, not just focusing on speed. "My goal here is to help Members become stronger runners," says Matt. "I showed how a few simple movements can help strengthen the key muscles involved in running, which helps keep you safe and make you more resilient."
Yoga
Aditi Shah's 30 Minute Beginner Yoga Flow, 7/16
We introduced a lot of Members to yoga for the first time this year, and this particularly strong beginner class quickly became a team favorite. "I was really proud of this beginner class!" says Aditi. "I used modifications and props throughout to make more challenging poses accessible to all."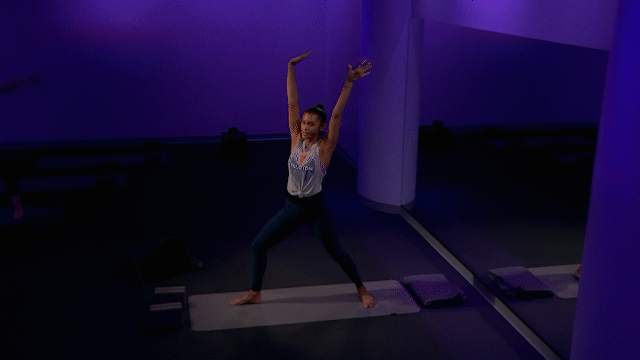 Anna Greenberg's 20 Minute Power Yoga, 6/18
In a true demonstration of the yogi's mindset, Anna's favorite 2019 class is one where she actually takes a little stumble. "There was a moment where I wobbled, which was such a classic moment of mine. More importantly, it shows we all stumble, but we have to keep going," says Anna."
Denis Morton's 45 Minute Intermediate Yoga Flow, 7/6
We all love Denis on the Bike, so seeing his relatable and personable demeanor on the mat has been a highlight of 2019. This class is challenging, but he leads it with a smile. "I picked this class because it's a good reminder that yoga is a practice that you have to continue to work to improve. Even my balance is challegned, which you'll see!" says Denis.
Kristin McGee's 30 Minute Classic Rock Yoga, 7/5
Family is a huge part of Kristin's life, and in this class, she shares stories about her brother and father in rock bands. "It was really personal to me, and I got to work up to a "rockstar" pose while tying in the message of always continuing to pursue your passions," says Kristin.
Ross Rayburn's 45 Minute Disco Yoga Flow, 5/12
"Anyone who takes my class knows how much fun I love to have when practicing, and my disco class definitely raised the bar in the "yoga should be fun" argument!" Ross delighted all of this students as he incorporated classic disco dance moves into yoga poses in this unique and delightful class.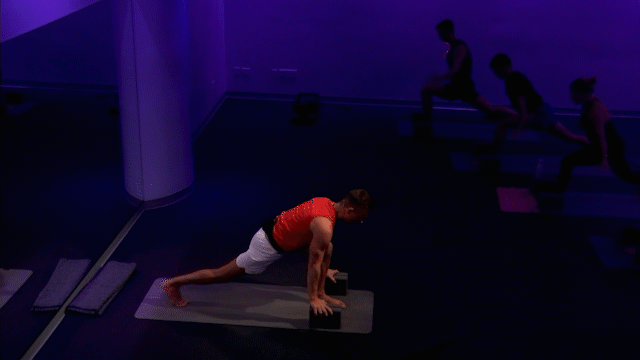 Meditation
Anna Greenberg's 5 Minute Courage Meditation, 8/7
"I think courage is so important, so I wanted to run with it in this class," says Anna. "I wanted to inspire us all and leave everyone feeling pumped up and like a warrior in just 5 minutes!" As you head into 2020 and face the challenges of the year ahead, remember--you've got this one in your back pocket for when you need it.
Kristin McGee's 10 Minute Zen in Ten Meditation, 10/4
Our first ever live Meditation, Zen in Ten, challengs Members to make time and space for themselves during their busy days to remain mindful and energized. "I was honored to teach the first Zen in Ten meditation," says Kristin. "It was energizing, and we focused on embodying energy through opening and closing of the hands, making this a really unique meditation!"
Ross Rayburn's Level Up Meditation, 6/18
We've heard from so many Members that this meditation has supported them as they work to hit their goals and overcome their challenges. "I love meditation's power to help us grow and truly go to the next level," says Ross. "The mind and the spirit are powerful tools in this regard. This meditation aims to do just that."