About Me
Find me on the Leaderboard: jones_e
My Tags: #PelotonCanada, #PowerZonePack
I've been a Peloton Member since: 2019
I use: Peloton Tread, Peloton Bike, Peloton App
My occupation: General Manager
To introduce myself: I'm a former athlete who had a few knee surgeries and gave up sports. Now I have a full time job, a wife and two young kids. Life has changed, and Peloton has enabled me to get back to pushing myself mentally and physically. I've found the Peloton programming and equipment has brought back my drive to be my best self. I've really enjoyed setting personal fitness goals and continuing to set PRs.
A fitness achievement I'm proud of: My most recent FTP results on the Peloton Bike, averaging over 300 watts. Since the Peloton Tread came to Canada, I'm working on doing a 10km run in under an hour.
My most frequently taken class: Power Zone cycling, upper-body weights, 20-min. runs
My advice to other Peloton Members: Consider turning an off day into an active recovery day!
Instructors: Emma Lovewell, Matt Wilpers, Rebecca Kennedy, Ben Alldis

Recovery day class: Low impact Ride or walks

Class playlist genre: Depends on the day!

Post-workout snack: Banana, protein powder, water

Time to work out: 5:30 AM, before the kids are up!
MONDAY
10 min Low Impact Ride with Ben Alldis

45 min Full Body Strength with Rebecca Kennedy

5 min Upper Body Stretch with Ben Alldis
I woke up today feeling sore from the workouts I did this weekend, so I told myself to just hop on the Peloton Bike to loosen up the legs. After the warm up, I was feeling good and went into a full-body strength. I am glad I did; it was a great way to start off the week.
TUESDAY
45 min Power Zone Endurance Ride with Matt Wilpers

5 min Post Ride Stretch with Matt WIlpers

15 min Chest & Back Strength with Andy Speer
One thing I have really enjoyed about Peloton is that I am back to training towards fitness goals versus just exercising. I always do a longer PZE ride during the week. As Matt says, it is a training day, not a race day. I have found this to be helpful for increasing my total output for race rides.
WEDNESDAY
10 min Warm-Up Run with Rebecca Kennedy

20 min HIIT Run with Chase Tucker

20 min Arms & Shoulders Strength with Andy Speer

10 min Core Strength with Rebecca Kennedy

10 min Upper-Body Stretch with Selena Samuela
We got the Peloton Tread as soon as it came to Canada in February, and I have just begun to add running into my weekly schedule, as I used to run regularly while training for Lacrosse. Twelve years ago, I had two knee surgeries and have never taken up running consistently since. I've gone through small stints of outdoor and treadmill running, but have always found it resulted in knee pain, so chose other ways to exercise. Since getting the Tread 10 weeks ago, I have been able to run without pain and have focused on slowly increasing my pace and distance. I've been doing two shorter runs during the week and longer runs/hikes on the weekend to get my body used to the workload. Today's workout was great as the weekend soreness is gone. After my 20-minute run, I was fired up and felt like I had a lot left in the tank, so I went on to do 20 minutes of upper body and 10 minutes of core. Great morning workout!
THURSDAY
5 min Warm-Up Ride with Matt Wilpers

30 min Classic Rock Ride with Matt Wilpers

20 min Chest & Back Strength with Chase Tucker

10 min Core Strength with Matty Maggiacomo
This morning I had planned on doing a Power Zone ride, but saw that Matt had a classic rock ride which spoke to me, so opted to do that instead. I stacked the ride with an upper-body class and a core class.
FRIDAY
10 min Warm Up Run with Rebecca Kennedy

30 min Bootcamp: Upper Body with Adrian Williams

10 min Core Strength with Ben Alldis

5 min Lower-Body Stretch with Ben Alldis

5 min Upper-Body Stretch with Ben Alldis

10 min Full Body Stretch with Selena Samuela
I plan on doing a longer ride and run this weekend, so I wanted to try my first Tread Bootcamp this morning. I was not sure what I was getting into, so I went for a longer warm up to ensure I was ready. I love the positive energy Rebecca always brings to her classes. I really enjoyed the bootcamp and will be adding it as a weekly staple moving forward. To prepare for the longer workouts in the upcoming days, I added in some extra stretching.
SATURDAY
75 min Power Zone Endurance Ride with Matt Wilpers

5 min Post-Ride Stretch with Matt Wilpers
I saw that Matt's Saturday AM ride was a Power Zone Endurance and knew that I wanted to do that. However, I enjoyed myself a little bit too much on Friday night, so this ride was a grind. The format and music were great, but it was rough due to my own choices the night before. Either way, I got it done, and it is always a great way to kick off the weekend.
SUNDAY
5 min Bootcamp Warm Up with Adrian Williams

10 min Warm Up Run with Selena Samuela

45 min 90s Run with Matty Maggiacomo

20 min 2010s Run with Selena Samuela

10 min Post-Run Stretch with Jess Sims

5 min Lower Body Stretch with Ben Alldis
Today was going to be a longer run, so I did an additional warm up to help my results. Matty's 90s Run was enjoyable, and I found myself singing along to the music. As I neared the end of the run, I realized I was close to an interim goal I had set which was to run 10km in under 60 minutes. So the moment the run was done, I quickly started a 20-minute run. I am glad I chose Selena as right at the 9km mark, Sia's "Chandelier" came on—perfect song to motivate me to crush the last leg out. Goal accomplished, 10km in 60 minutes, as well as setting personal bests on both the 45-minute and 20-minute runs. The last five minutes of the run, I was able to slow my pace and let my heart rate begin to come down. This was a great way to end the week. Time to work towards the next goal 20km in 120 minutes!
Peloton Diaries: Real weeks of workouts written by real Peloton Members.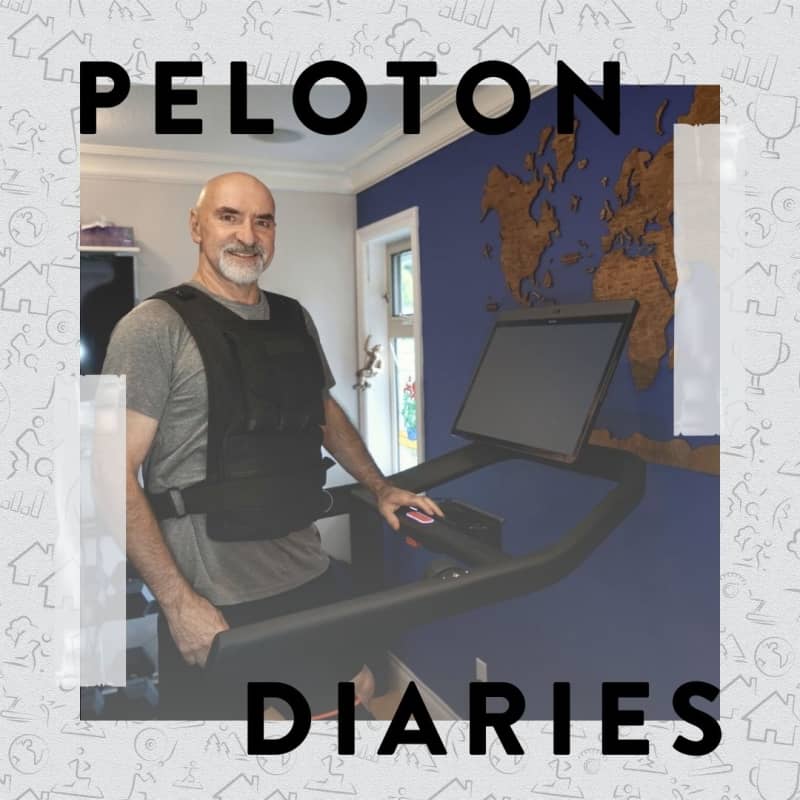 My Active Retirement Includes Search-And-Rescue and Climbing Kilimanjaro—This Is A Week From My Peloton Routine: Peloton Member Don S, who served in the Canadian Military for 33 years and is now more active than ever, says: "I can say with certainty that Peloton will be my training partner for many years to come and will be pivotal to helping me to achieve my fitness goals."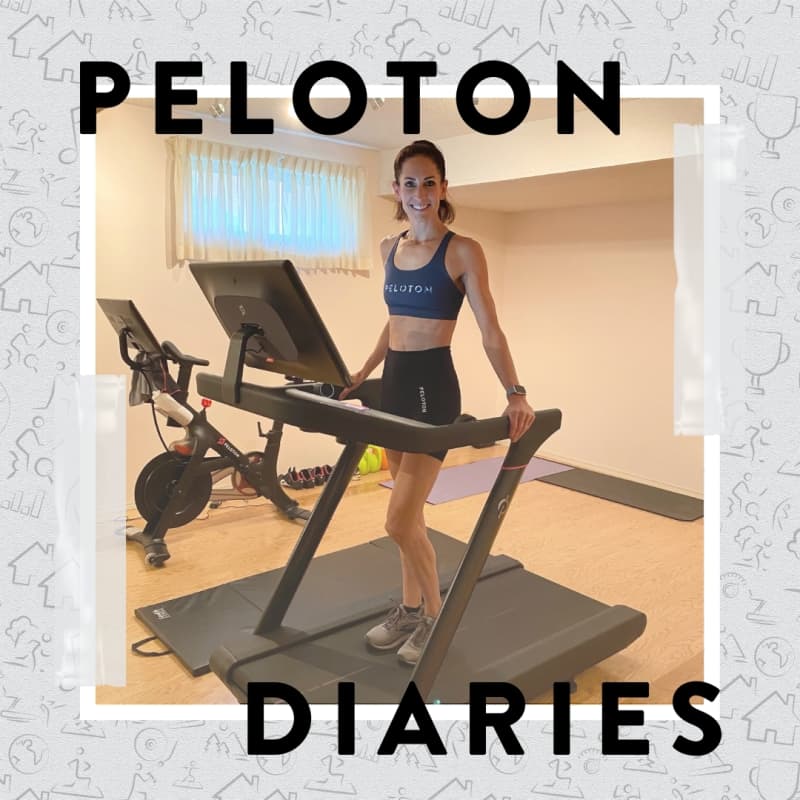 I'm A Mom Getting Stronger on the Tread, while Cross-Training on the Bike and App: "I have struggled, pushed limits, persevered and hit many goals in my time as a Peloton member. With this incredible community I have experienced success beyond what I thought I was capable of."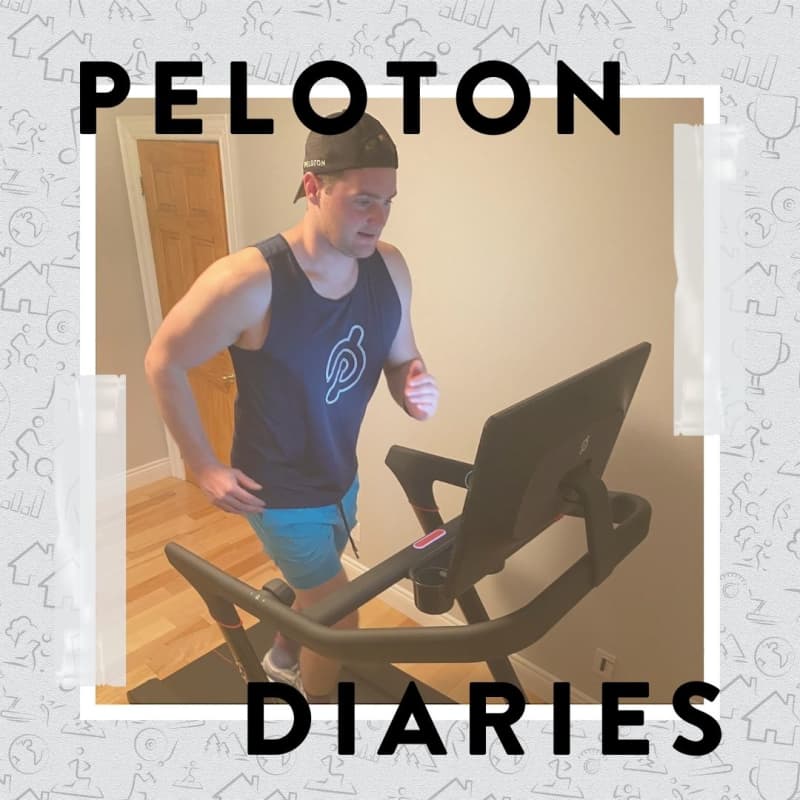 I'm A Former Competitive Athlete, A Husband and A Dad—This Is My Week of Peloton Workouts: Peloton Member Eryn J. loves that Peloton has him competing and working towards goals again, instead of just exercising.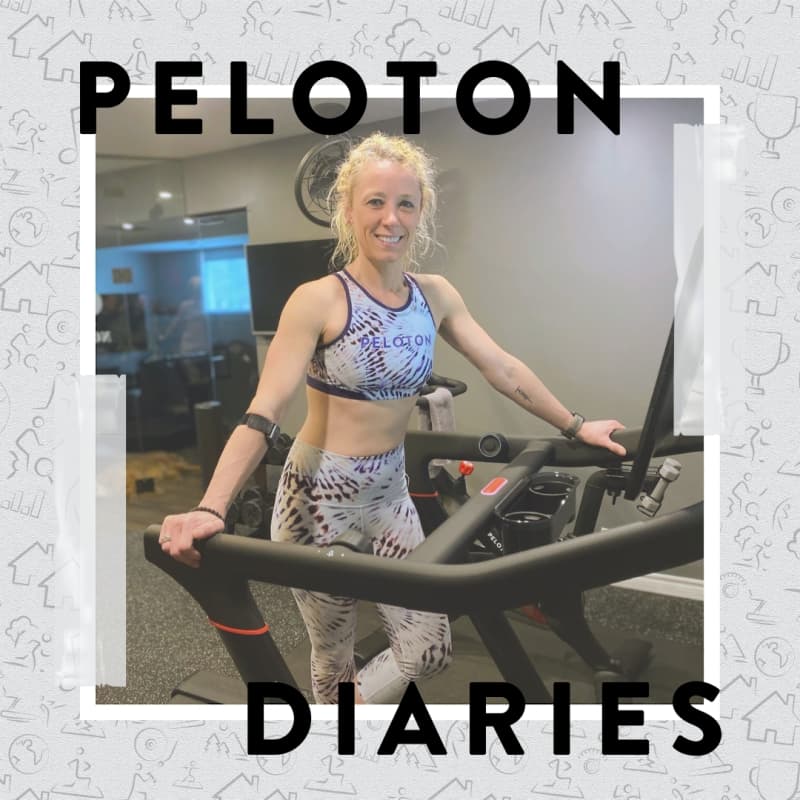 A Full-Time Working Mom's Week of Workouts on the Peloton Tread and Bike: "I live in Ontario, Canada and am a mom of four teenagers, two golden retrievers, five alpacas and a handful of laying hens! In my spare time, I work full-time as an accounting clerk."
A Week of Outdoor Runs, Strength and Rides with the Peloton App and Bike: Member Uriel L. is a husband and a dad of two (very active) boys, who are five and seven. The family goes on a vacation over the weekend, but he still gets some classes in with the App!
I'm a 54-Year-Old Runner—This Is My Week of Peloton Workouts: Andrew E, who committed to a healthier lifestyle after quitting smoking ten years ago, uses his Tread, Bike and App for a holistic week of Peloton workouts.
My Week of Peloton Rides, Strength and Flows as a Full-Time (and First-Time!) Working Mom: Meet Tatiyana S. on the Leaderboard in the early afternoon, so that she still has time to relax later that evening.
A Week of Peloton Workouts for A Stay-At-Home Dad of 2 Daughters: Meet Grady L: "I am working on myself everyday, inside and out, and my Peloton Bike is a HUGE part of that process."
I'm A Bestselling Author Who Loves to Ride and Flow—This is a Week of My Peloton Workouts: Andra W, a self-described "yogi-cyclist" and New York Times bestselling author enjoys a week of flows, rides and meditations.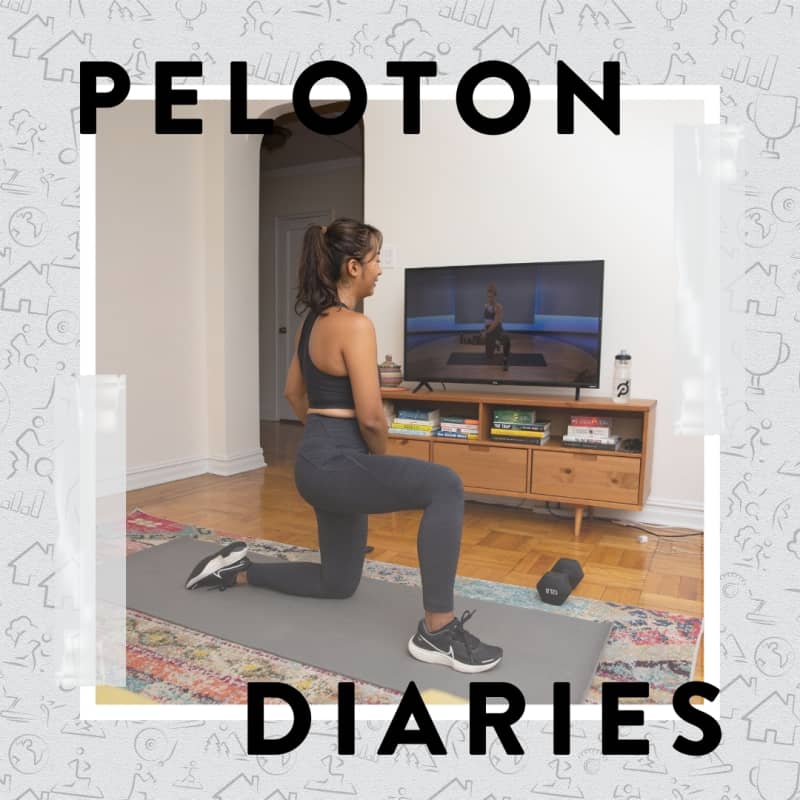 My Week of Workouts in My NYC Apartment with the Peloton App: Combining strength and HIIT cardio and meditation, Ayesha S. leaves no corner of the Peloton App untapped to build a well-rounded week of classes.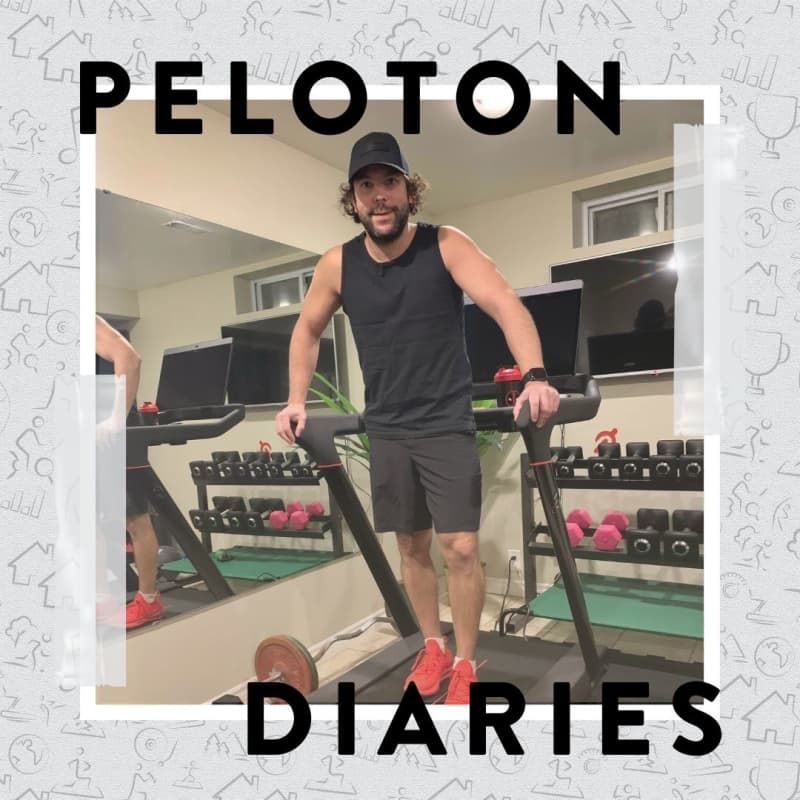 I'm A Dad Who Loves To Run, Ride and Lift—This Is A Week of My Peloton Workouts: When Member Sean T. isn't playing hockey, on his motorcycle or spending time with his family, you can find him on his Tread or Bike.
I Worked My Way Up To Running 60 Minutes Straight—This Is My Week of Peloton Workouts: Member Ali J. started as an App Member and got the Tread as soon as it was released in the U.K. Thanks to her hard work, she can now run 60 minutes without stopping!
I'm A Young Professional In Ohio—This Is My Week Of Peloton Workouts: Member Maggie C. uses Peloton to keep up her exercise routine and to keep in touch with her friends.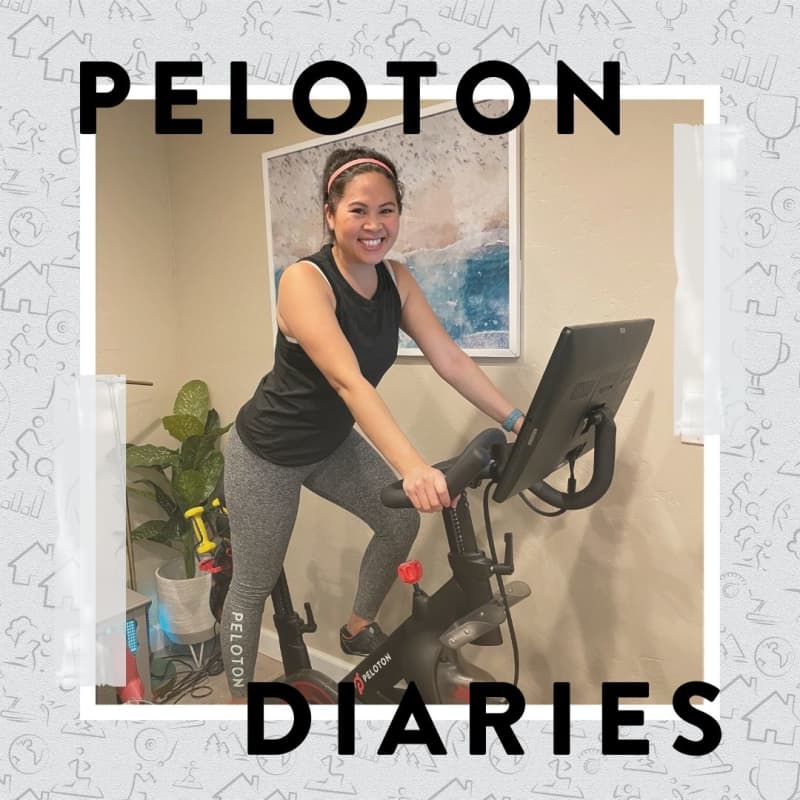 A Week of Peloton Workouts While Caring for My Children 24/7: Angela T. has a full-time job as a mom and a part-time job as a jewelry designer, but she still made time to do a Peloton class every day for a year.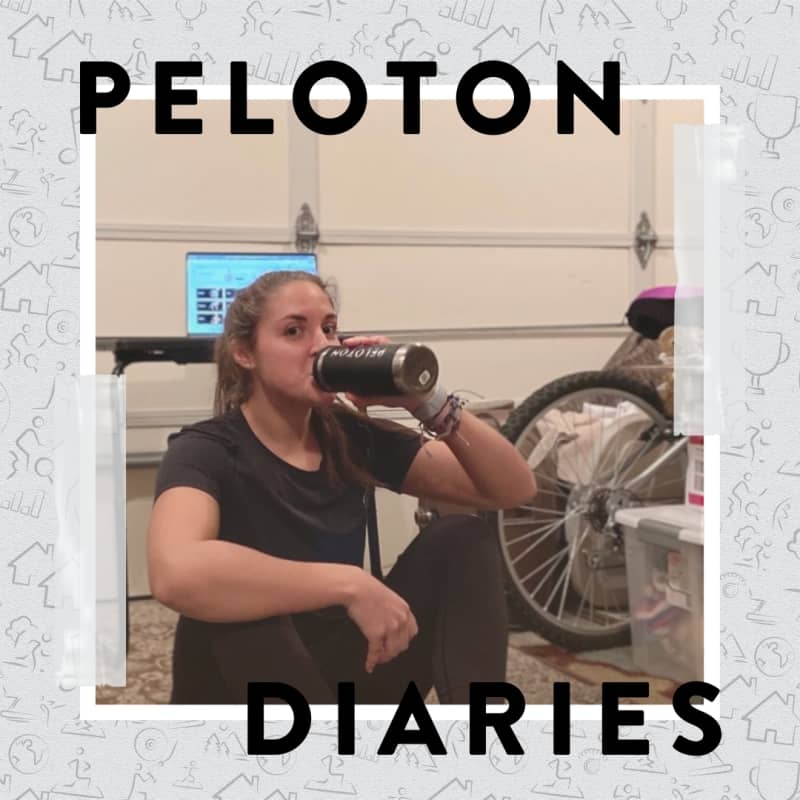 My Week of Peloton Workouts As A D1 Softball Coach: A week of Peloton workouts with Member Ashley G, who uses the Peloton App and her own equipment for a week full of sweat.
My Week Training for a Marathon on the Peloton App: Member Anthony W. uses the Peloton App alone to train for his third marathon, from strength to long runs.
My Cold, Wintery Week of Peloton Rides, HIIT, and Strength: Charlie W, a dad of two from just outside of Leeds, uses his Bike and the App to push his training to the limits in mid-December.
I Love Power Zone Classes, but My Week Doesn't Stop There: Meet Kaya T. on the Leaderboard for a week of Power Zone rides and so much more.