If you happened to be in Christine D'Ercole's 45-minute Classic Rock Ride at 7 AM on the morning of the New York Giants Week 9 loss to the Dallas Cowboys, you may not have recognized the guy in the front row. But his sheer size – now a trim 6-0, 280 pounds – and his head-to-toe purple and gold Louisiana State University garb would have told you he was somebody.
Anthony Darelle "Booger" McFarland has been working as an analyst with ESPN's Monday Night Football since May of 2018. Since getting his Peloton bike this past July, he has visited Peloton for a live class on 23rd Street in Manhattan every time MNF has taken him to New Jersey's MetLife Stadium. Three times he has made the rush-hour trek from his Jersey City hotel, through the Holland Tunnel, to ride in-studio. His first visit was for a 45-minute Emma Lovewell 80s Ride on the morning of the Jets Week 2 loss to the Cleveland Browns. The second, a 45-minute Kendall Toole Intervals & Arms Ride before the New England Patriots blanked the Jets 33-0. And the third was with D'Ercole.
All were at 7 or 8 AM, an early start for a day full of production meetings and game prep that doesn't end until the final down takes place at nearly midnight. "I'm an early bird," says McFarland, who is often on his bike at home in Tampa by 5 AM. "I'm not a long sleeper."
McFarland was an All-American defensive tackle at LSU before his nine-year NFL career, during which he won two Super Bowls; in 2002 with the Tampa Bay Buccaneers and in 2006 with the Indianapolis Colts. At that time, McFarland says he "could eat 12 pieces of fried chicken on a Saturday" because he would burn it all off in his three-hour game on Sunday. But after McFarland retired, he realized he needed to make a change. "My mother had recently passed from a heart attack, and I knew I had to do something about it," McFarland says.
At the beginning of his new fitness journey, McFarland drastically changed his diet and began intermittent fasting, consuming all of his calories between lunch and dinner. "That first week was the hardest ever," McFarland says. He also continued with his normal, football-style workouts, lifting in the gym and running miles or sprints – "gassers," he calls them – outside. But last June, after having his knee scoped, McFarland had to make another change. His doctor told him if he was going to do cardio, it had to be on a bike.
"I was so against cycling," McFarland says. "I'm just being honest, because you always think it's going to hurt your butt if you sit down on this little, narrow seat. But I had heard so much about it, and I saw so many people getting in there with Peloton, so I decided to give it a try."
One workout and McFarland was hooked. Now, he rides six days a week, typically hitting the gym afterwards to lift weights. He favors 45-minute hip hop, pop and rock rides with Robin, Ally and Alex, and goes for a PR once a week. "There are two things I measure the workouts by," he says. "Number one, I look down at the puddle of sweat. And number two, I look at the leaderboard. That's the competitive level you have when you're a former athlete, and that's the secret Peloton has discovered. It allows people to compete on all different levels."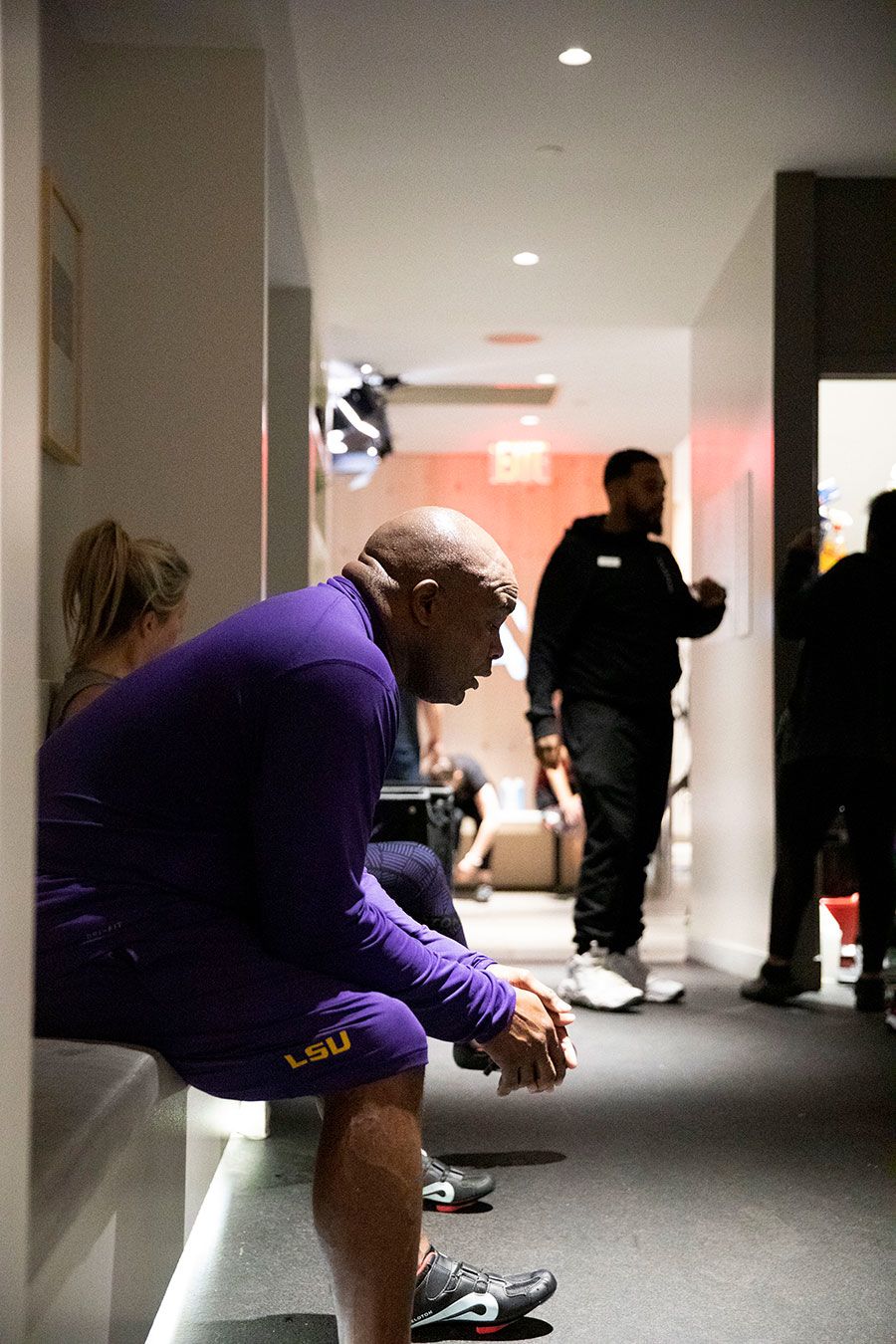 In D'Ercole's class, McFarland was aiming to finish in the top five. He finished third. But there are other stats that are just as important to McFarland. His cholesterol and blood pressure are perfect, and he no longer struggles to find clothes he's comfortable wearing. "When you play football, even the smallest guy out there is big for whatever his size is," McFarland says. "So for me, now, it's almost a sense of normalcy. I'm never going to be the average 6-foot, 185-pound male walking around, but I feel a lot more normal than I used to."
Now, McFarland is more interested in maintaining; his habits are just a normal part of his new lifestyle, including the Bike. "The Peloton has taken away my knee pain and given me a new, convenient and non-weight bearing way to really push myself when I do cardio," he says. "I just fell in love with the thing."